Crafting custom cabinets that are timeless, visually stunning, and highly functional requires skill, expertise, and the use of high-quality materials. At Holland's Custom Cabinets, we take great pride in our work and ability to meticulously hand select materials that are right for the job.
One material that has always been popular with cabinetmakers and homeowners alike is oak. In recent years, one type of oak has garnered increased attention for its distinct grain pattern and remarkable durability: rift-cut white oak.
What is the allure of this cut of wood for custom cabinets? Why has rift-cut white oak become the preferred choice of many homeowners and designers? Let's find out.
What Makes Rift-Cut White Oak So Special?
As its name suggests, rift-cut white oak comes from the oak tree, a timber known for its strength, visual appeal, and versatility. What sets rift-cut oak apart from other cuts of oak is the way the log gets sliced. Unlike traditional quarter-sawn or plain-sawn cuts, rift-cut oak is sliced at a slightly different angle. This technique results in straight, closely spaced lines that provide a modern, refined look to the grain that's become highly desired.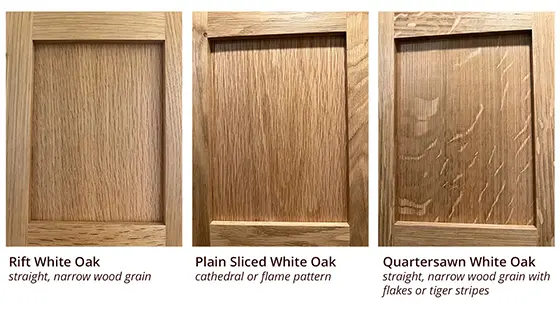 Durability that Stands the Test of Time
Oak, in general, is renowned for its strength and durability, and the unique cutting technique used to create rift-cut white oak yields a more stable and less prone-to-warp wood. This makes rift-cut white oak an ideal choice for cabinet construction.
Subtle Elegance
While durability is a critical factor in cabinetry, aesthetics also play a pivotal role in the appeal of rift-cut white oak. Its unique grain pattern is characterized by straight and uniform lines created by the rift-cutting technique. This creates a contemporary and sophisticated look that works well with a wide range of interior styles and design visions, ranging from modern to traditional or transitional.
Enhanced Versatility
Versatility is another aspect of rift-cut white oak. The wood can be stained or finished in various ways to achieve desired colors and sheens. Light, natural finishes highlight the wood's inherent beauty, while dark, rich stains add depth and drama. Such adaptability makes rift-cut white oak a favorite among designers and homeowners alike, as it can easily align with various color schemes and design concepts.
Resale Value
High-quality, custom-made cabinets, like those made from rift-cut white oak, can significantly boost a property's resale value. Prospective buyers often appreciate the enduring appeal and premium quality of rift-cut white oak, which can prove advantageous in competitive real estate markets.
The Right Wood for the Job
In our experience, sourcing high-quality rift-cut white oak that meets specific criteria for "cleanliness" has become increasingly challenging in recent years. "Clean" wood refers to material that maintains consistent color (allowing for some natural variation), is free of dark spots from mineral streaks, lacks a red hue, and displays minimal flake in the grain pattern (common in quartersawn cuts). Additionally, the grain should predominantly exhibit a straight, symmetrical pattern rather than a wavy one.
Holland's only accepts wood pieces that adhere to these rigorous standards. Granted, this may result in higher material costs and additional labor for selection and sorting, but we believe that when our clients invest in custom cabinets, they should expect nothing less than the finest quality materials and craftsmanship.
Explore Your Options with Holland's
Rift-cut white oak, with its exceptional durability, timeless elegance, and versatility stands as a desirable option for homeowners and designers alike. So whether you're embarking on a kitchen remodel or considering cabinetry for other parts of your home, rift-cut white oak deserves a place at the top of your list. It's not just a cut of wood; it's an investment in lasting beauty and functionality. Contact the experts at Holland's to discuss how rift-cut white oak could help you transform your kitchen, living room, home office, or other living space.