Eyes are said to be the gateway to the soul. In much the same way, doors can be seen as the portals to the personality and style of custom cabinets. While there are many styles to choose from, Holland's Custom Cabinets sees three styles currently among the most popular for clients seeking an elegant and timeless look: reeded, beaded, and thin shaker style cabinet doors.
Each offers a distinct and tactile aesthetic that adds character and sophistication to custom cabinets. However, their unique design means crafting them is challenging and exacting work. It takes a quality cabinet maker like Holland's—someone with the right skills, tools, and experience—to do the job well.
What are Reeded Cabinets?
As their name suggests, reeded cabinet doors give the appearance of being constructed of vertical reeds, spaced side-by-side, evenly across the surface of the door. Creating reeded cabinet doors involves routing or carving the grooves into the door's surface. Achieving uniform spacing and depth of the reeds is essential for a visually pleasing result that gives a sense sophistication to the cabinetry.
What are Beaded Cabinets?
Beaded cabinets have a bead, or a slight groove and rounded edge cut into the wood. The aesthetic is similar to the appearance of beadboard panels, which usually consist of columns of narrow wood planks lined up vertically on a wall. In between each wood plank is a little indentation or ridge known as a "bead."
Critical Aspects of Reeded & Beaded Doors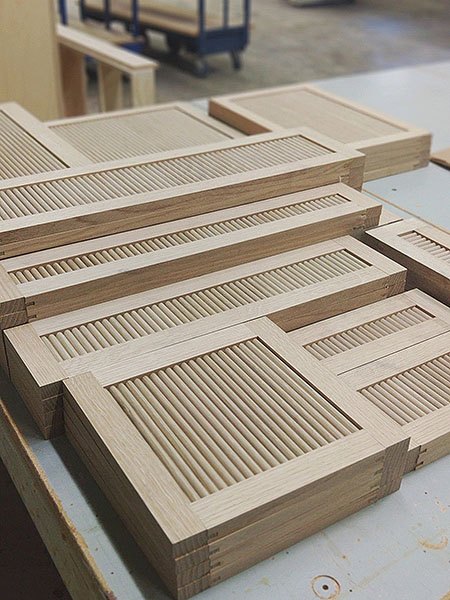 Both reeded and beaded cabinet doors can be made from various materials, such as wood or even plastic or metal overlays, depending on the desired aesthetic and budget. Wood is the most common material used in custom cabinets. The spacing of the reeds or beads plays a crucial role in the overall appearance of your cabinets. Irregular spacing can disrupt the uniformity and beauty of the design.
Proper construction of reeded and beaded cabinet doors is vital. If not built correctly, the doors could succumb to excessive warping and twisting. One common mistake is failing to ensure that the reeded or beaded detail on the front of the door matches the back detail. Such a lack of balance can lead to warping over time as the door responds to changes in humidity and temperature. To avoid this, Holland's pays meticulous attention to detail and uses high-quality materials when constructing the doors.
What Are Thin Shaker Cabinet Doors?
Thin shaker cabinet doors offer a departure from the traditional shaker style, which typically features a broader frame of approximately two inches. The appeal of thin shaker doors lies in their sleek and modern appearance, making them an excellent choice for contemporary designs. However, like reeded/beaded doors, thin shaker doors come with their own set of design and construction challenges.
Critical Aspects of Thin Shaker Doors
Thin shaker doors, by their very nature, have less material to maintain shape and stability. As with their beaded and reeded counterparts, warping and twisting can be an issue. Another consideration often overlooked is the selection and installation of cabinet hinges. Cabinet hinges are not one-size-fits-all, and they require precise door thicknesses to function correctly. Using the wrong hinges can lead to operational issues and an unsightly appearance.
Also, achieving a consistent 1/8-inch reveal between the door and drawer fronts is vital for both aesthetics and functionality. The reveal ensures that the cabinets open and close smoothly while also providing a visually pleasing alignment. It's a detail that may seem minor but has a significant impact on the overall look and feel.
All of these issues can be addressed by working with a cabinetmaker like Holland's who is experienced with this style of cabinetry.
Quality and Experience Count
Reeded, beaded, and thin shaker doors are unique styles that can bring distinctive charm to kitchen and living spaces, but they also demand precision and expertise in their construction and installation.
Holland's can help you achieve the results you desire. We'll ensure the reeds or beads are spaced correctly, doors are constructed with care to prevent warping, and the right hinges are selected and installed for a flawless operation. Contact Holland's Custom Cabinets today to begin exploring how we can help you enhance the beauty and functionality of your home with custom cabinetry.